PHOTO 2024 Photobook Market
Applications now open for Photobook Market Stalls
When:
Sat & Sun 23–24 March 2024
Where:
Abbotsford Convent, Magdalen Laundry, 1 St Heliers St Abbotsford VIC 3067
About the PHOTO 2024 Photobook Weekend
The Photobook Weekend celebrates the role of photobooks in contemporary photographic practice. The two-day program will cater to those passionate about photobooks with a photobook market, exclusive displays of photobook awards, hands on workshops, panel discussions, and book launches. Photobook fans will have the opportunity to browse and purchase some of the newest and most respected names in contemporary photobook publishing. At PHOTO 2024 we are excited to be bringing our Photobook Weekend to Abbotsford Convent for the first time.
Photobook Market Stall Application
PHOTO 2024's Photobook Market will be your opportunity to promote, sell and network amongst other photobook lovers. As a participant, you will be joining a line-up of leading artists, publishers, designers, and photobook advocates. Applications for the Photobook Market will be reviewed and selected by Pippa Milne (Associate Curator, Photo Australia) with our Photobook Weekend co-curators Matt Dunne (Tall Poppy Press), Rohan Hutchison (acb press) and Angus Scott (Photo Collective).
Check out our PHOTO 2022 Photobook Weekend page for more info. Read on for guidelines and how to apply.
You can pick between the following table options for your stall:
Single Tables
Open to photographers, artists, book and magazine publishers, distributors and sellers.
Table size: 183 x 76 cm
Cost: $50
Shared Tables
All applicants are welcome to apply to share a table with another publisher or artist.
You can either nominate who you would like to share with or if you would like us to allocate you a table with someone else, please check this box on the form.
There is a maximum of two stallholders per table.
Table size: 183 x 76 cm
Cost: $75 ($37.50 each)
Double Tables
Open to book and magazine publishers, distributors and sellers seeking larger display or more seating capacity (maximum four people).
A double table preference will be considered but is not guaranteed.
Table size: 366 x 76 cm
Cost: $90
Table Displays
Stallholders are encouraged to be creative with their displays.
Tabletop book stands, display copies, and pull up banners are all excellent options for showcasing your brand or initiative.
All tables will come with a black tablecloth, and chairs according to booking size.
Any externally sourced furniture is subject to prior approval, please email us directly to discuss.
Please note that there will be no wall space available as the North Magdalen Laundry is a heritage listed building, and wall hangings are not permitted.
Stallholders will be required to set up their stands on the afternoon of Friday 22 March.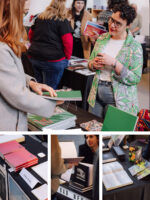 The Photobook Market is a photography focused publishing event – we want to hear how passionate you are about photobooks!
Please describe:
Who you are
What you are proposing to sell at the Photobook Market
Explain your intended table set up, and provide visual examples where possible, to help us understand exactly what you would like to display
For example: photobooks, photography-specific catalogues, monographs, zines or related printed material
Highlight what's new and exciting – are there any notable books you've recently launched/are launching?
Images
Please submit high-quality images of your work
This material should include your publication as well as any relevant projects or exhibitions
Event Ideas
Proposals for event ideas are welcome.
Stallholders in previous years have held book launches and book signings during the Photobook Weekend with great success. Let us know your suggestions for anything you would like to be part of.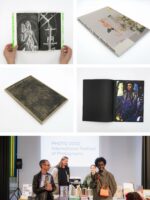 Applications close Wed 20 Sep 2023 5pm AEDT.
Applicants will be notified of outcome Tue 24 Oct 2023 5PM AEDT.
Please note that applying does not guarantee participation.
Submit via our online application form.
For any questions, contact:
Rohan Hutchinson, Matt Dunne & Angus Scott
photobookweekend@photo.org.au
+61 3 9413 2776