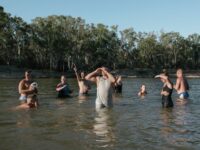 Born 1983, Melbourne, Australia
Lives and works Melbourne, Australia
Alana Holmberg is a photographer based in Melbourne. Her practice combines stills, motion, sound and text and her work is both conceptual and documentary. Raised in regional Victoria, Alana's work is sociological in nature and intentionally close to home. Interested in exploring contemporary issues within Australian society, her work draws on personal experiences, her family archives and observations within her community.
Alana is a member of Oculi Collective and in 2019 she won Australia's National Photographic Portrait Prize. She is also a photojournalist, writer, communications consultant and producer. Most recently she produced ACTS I-VII by Oculi Collective at Benalla Art Gallery and was one of three collaborators for Unless You Will Journal #31.