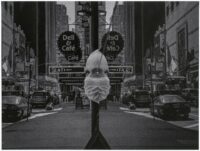 Born 1978, Melbourne, Australia
Lives and works New York, U.S.
Ashley Gilbertson is an Australian photographer living in New York City, a member of the VII Photo Agency, and a founder of Shell Shock Pictures. Gilbertson's early work focused on refugees around the world, an interest that in 2002, led him to Iraq. His work from that country, made largely on contract for The New York Times, earned critical acclaim from, among others, the Overseas Press Club which awarded Gilbertson the Robert Capa Gold Medal for his 2004 work in Falluja. Gilberton's first book, Whiskey Tango Foxtrot, released in 2007 to critical acclaim, went on to become a best seller. After Iraq, Gilbertson shifted his focus to the home front where he specialized in veterans issues, working on stories that drew attention to post traumatic stress disorder, suicide, and traumatic brain injuries. Gilbertson's second book, Bedrooms Of The Fallen, a collection of photographs depicting the intact bedrooms of service members killed in Iraq and Afghanistan, was released in 2014. That work was published in The New York Times Magazine, and received a prestigious Ellie award.