Atong
Atem

(SS/AU)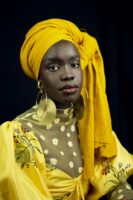 Image: Atong Atem, from the series Surat, 2022. Commissioned by Photo Australia for PHOTO 2022 International Festival of Photography. Courtesy the artist and MARS Gallery.
Born 1994, Addis Ababa, Ethiopia
Lives and works Melbourne, Australia
Atong Atem is an Ethiopian born, South Sudanese artist and writer living in Narrm/ Melbourne. Atem's photographic practice explores migrant narratives, postcolonial practices in the African diaspora, and concepts of identity, home, and liminal space.  Her dynamic portraiture references widely, from Malick Sidibe and Seydou Keita to science fiction writer Octavia Butler.  She was awarded the inaugural National Gallery of Victoria and MECCA M-Power scholarship in 2018 and the Brisbane Powerhouse Melt Portrait Prize in 2017.