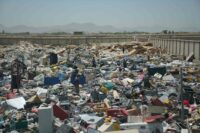 Born 1992 Wardak, Afghanistan
Lives and works Kabul, Afghanistan & Ghent, Belgium
Aziz Hazara is an interdisciplinary artist based in Kabul and Ghent. He works across mediums such as photography, video, sound, language programming, text and multimedia installations to explore questions of identity, memory, archive, conflict, surveillance and migration in the context of power relations, geopolitics and the panopticon. Presented at the 22nd Biennale of Sydney with generous support from Open Society Foundations, generous assistance from ACMI, and assistance from NIRIN 500 patrons. Produced by the Han Nefkens Foundation. Courtesy the artist.