Benjamin Prabowo
Sexton

(AU)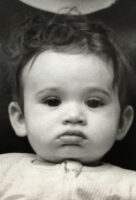 Image: Benjamin Prabowo Sexton, from the series Long time no see, 2021. Courtesy the artist and Daine Singer.
Born 1984, Jakarta, Indonesia
Lives and works Melbourne, Australia
Benjamin Prabowo Sexton works predominantly with photography, placing an emphasis on the postproduction values of the medium. Sexton utilises his photographic archive to alter images through experimental darkroom processes, such as masking and misregistration to form new compositions. His works are typically monochromatic, unique state, silver gelatin prints that combine collage, photography and drawing techniques to step outside the traditional conventions of photographic practice.