Boris
Eldagsen

(DE)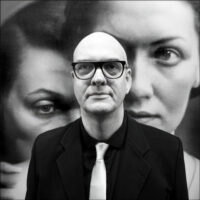 Born 1970, Berlin, Germany
Lives and works Berlin, Germany
Boris Eldagsen (*1970) is a Berlin-based photomedia artist, who studied fine arts at the art academies of Mainz, Prague and Hyderabad (India) – and philosophy at the universities of Cologne and Mainz.
He has exhibited in international institutions and festivals for over 20 years and has been teaching for international art colleges, universities and festivals since 2004, amongst them VCA and PSC Melbourne.
Boris is one of the leading AI experts in the international photography scene. In April 2023 he refused the Sony World Photography Awards, admitting that he applied with an AI-generated image to initiate a debate about the relationship between AI-generated images and photography. His stunt became worldwide news and his image THE ELECTRICIAN one of the most famous of the year.