Broomberg &
Chanarin

(ZA/UK)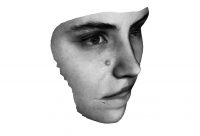 Image: Broomberg & Chanarin, The Revolutionary, from the series Spirit is a bone, 2013. Courtesy the artists.
South African artist Adam Broomberg and British artist Oliver Chanarin have worked together for over twenty years, between London and Berlin.
They have exhibited at The Centre Georges Pompidou, the Hasselblad Center, the Yokohama Trienniale, Shanghai Biennale, Museum of Modern Art, New York, Tate Britain, and the Gwanju Biennale. Their work has been collected by the Pompidou, Tate, MoMA, Yale, Stedelijk, V&A, the Art Gallery of Ontario, Cleveland Museum of Art, and Baltimore Museum of Art. Major awards include an ICP Infinity Award for Holy Bible, and the Deutsche Börse Photography Prize for War Primer 2. Broomberg & Chanarin are the winners of the Arles Photo Text Award 2018 for their paperback edition of War Primer 2, published by MACK.