Candice
Breitz

(ZA)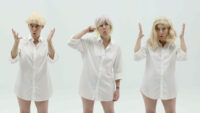 Image: Candice Breitz
Born 1972, Johan­nes­burg, South Africa
Lives and works Berlin, Germany
Candice Breitz (born in Johannesburg, 1972) is a Berlin-based artist. Throughout Breitz's international career, Breitz has explored the dynamics by which an individual becomes themself in relation to a larger community; the immediate community encountered in family, or the real and imagined communities that are shaped not only by questions of national belonging, race, gender and religion, but also by the influence of mainstream media: television, cinema and social media. Recently, Breitz's work has focused on the conditions under which empathy is produced, reflecting on a media-saturated global culture in which strong identification with fictional characters and celebrity figures runs parallel to widespread indifference to the plight of those facing real world adversity.
For more information please see annaschwartzgallery.com and candicebreitz.net