Caroline
Garcia

(AU)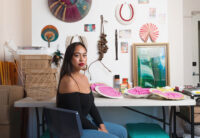 Born 1988, Sydney, Australia
Lives and works Brooklyn, New York, USA
Caroline is a transpacific, interdisciplinary artist. She works across performance, moving image, and installation through a hybridised aesthetic of cross-cultural movement, embodied research, and new media. Caroline's practice is shaped by alterity. In her work, she centers peripheral bodies by adopting the role of shape shifter – sliding into the gaps between cultures and experiences of otherness. Using found footage, archives, and artifacts, she digitally samples popular culture and colonial imagery to critically re-appropriate problematic narratives of cultural representation, further complicating them through cultural cannibalism.