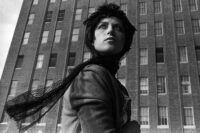 Born 1954, Glen Ridge, U.S.
Lives and works New York, U.S.
Cindy Sherman, in full Cynthia Morris Sherman, is an American photographer known for her images—particularly her elaborately "disguised" self-portraits—that comment on social role-playing and sexual stereotypes.
Her breakthrough work is often considered to be the collected "Untitled Film Stills", a series of 70 black-and-white photographs of herself evoking typical women roles in performance media (especially arthouse films and popular B-movies). In the 1980s, she used color film and large prints, and focused more on costume, lighting and facial expression.
Sherman was the recipient of a MacArthur Fellowship in 1995. She received an honorary doctorate degree from the Royal College of Art, London, in 2013.