Dianne
Jones

(AU)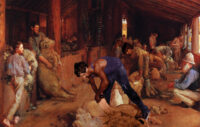 Image: Dianne JONES Shearing the rams, 2001. Monash Gallery of Art, City of Monash Collection. © Dianne Jones/Copyright Agency, 2022.
Born 1966, Perth, Australia
Lives and works Perth, Australia
Dianne Jones is a Balardung/Nyoongar woman working with photography. She attended Perth TAFE and University of Western Australia, completing courses in Art Foundation and Aboriginal Orientation in the 1990s before undertaking further study in visual art at Edith Cowan University, Perth. Her work combines Australian art history with cultural commentary as she inserts herself into works that have infiltrated the Australian public consciousness, such as Tom Roberts' Shearing of the rams, Max Dupain's Sunbaker and David Moore's Meat queue. Jones' work is included in collections of the National Gallery of Victoria, Art Gallery of Western Australia and the National Gallery of Australia.