Eden
Menta

(AU)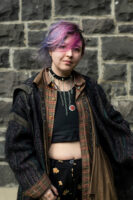 Eden Menta
Born 1994, Melbourne, Australia
Lives and works Melbourne, Australia
Eden Menta is a multidisciplinary artist working across photography, collage, drawing and painting. Edgy and instinctive, their practice draws on deeply personal experiences, keenly observing and unpacking the world around them.
Menta has worked in the Arts Project Australia studio since 2013. In recent years their exhibiting history includes the national touring exhibition FEM-AFFINITY; the Australian Centre for Contemporary Art (CCP) 'Who's Afraid of Public Space? (To the Street); Ballarat Foto Biennale and Portrait23: Identity at the National Portrait Gallery.