filip
custic

(ES/HR)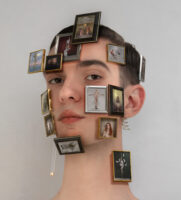 filip custic. Courtesy Onkaos.
Born 1993, Santa Cruz de Tenerife, Spain
Lives and works Madrid, Spain
filip custic (Santa Cruz de Tenerife, Spain 1993) works across photography, performance, sculpture and video to address themes around identity, body and our relationship with technology. Mirrors and screens are a reference to our age of image-obsession and selfies, and custic also uses symbols, references to science, and art-historical borrowings in his art. The artist focuses his work on the crossover between technology and the body, talking about identity and how technological objects can help us celebrate the diversity of identities of human beings.
custic is the artist behind the album visuals for Rosalía's El Mal Querer and Lil Nas's US No 1 hit, MONTERO (Call me by your name). He also has worked for Spanish fashion designer, Palomo Spain.
He has exhibited worldwide at Palazzo Giustinian Lolin in Venezia (Italy), Colección SOLO (Madrid, Spain), Art Basel Miami (United States), Caixaforum Barcelona (Spain), Matadero Madrid (Spain), OMM (Turkey), Parco Museum Tokyo (Japan), among others.