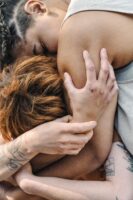 Born 1993, Tarntanya (Adelaide), Australia
Lives and works Tarntanya (Adelaide), Australia
Henry Wolff's practice is concerned with images that articulate vulnerability in their participation with the world/s of their collaborators. With an empathetic observational methodology, they produce moving image, photographic and performance works that attend to the power of marginality and diffraction within society. Through attention to human connection, they explore entangled experiences of being, and foster the moral virtues of compassion, care, and love.