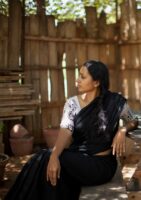 Born 1982, Thrissur, India
Lives and works Bengaluru, India
Indu Antony is a transdisciplinary artist based out of Bangalore and Kerala, India. She is known to explore tonalities of inward discussions which later on bursts out into the communal spaces. Her work primarily revolves around the notion of spaces and their intangible character in relation to the gendered body as a site of representation by understanding feministic stands which gives way to performances and installations. Her recent works use a lot of her hair as a metaphor for memory. She recently started her own self publishing initiative called Mazhi Books under which she has published her Cirst book – Why can't bras have buttons? which was the runners up for Al Kazi photo book of the year and one of the Photobook of the year at Fast Forward. Her second book 'Directory of the outsiders' won the Experimental Co-operative Art Grant. Indu Antony has participated in several group exhibitions including the Chennai Photo Biennale 2019; Serendipity Arts Festival, 2018; Kochi-Muziris Biennale (Collateral), 2018-19; Foto Fest Biennale, Houston, 2018; Queer Asia Photo Exhibition, London, 2017 and Photo Kathmandu, Nepal, 2015. Her project Cecilia'ed received the Public Art Grant by FICA in 2019. She won the Toto funds Award for photography for the year 2011.