Isabella
Darcy

(AU)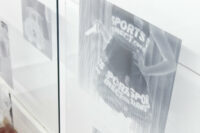 Image: Isabella Darcy, from the series Reworked, Moodboard (Glass) #18 _ #19, 2020. Image Courtesy of Zan Wimberley.
Born 1995, Melbourne, Australia
Lives and works Melbourne, Australia
Isabella Darcy is an emerging cross-media artist living and working in Naarm (Melbourne). Isabella's practice follows an interest in the systems and flux of value within consumable objects and design, reconsidering and exploring value and the alignment with ways of contemporary culture, material culture and human consumption. She received a Bachelor of Fine Arts (Honours) in 2020 and a Bachelor of Fine Arts in 2016 both from Monash University.