J.
Rosenbaum

(AU)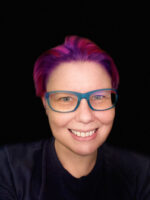 Born 1978, Columbia, Missouri, US
Lives and works Melbourne, Australia
J. Rosenbaum is a Melbourne AI artist and researcher working with 3D modeling, artificial intelligence and extended reality technologies. Their work explores posthuman and postgender concepts using classical art combined with new media techniques and programming. J has a PhD from RMIT University in Melbourne at the School of Art exploring AI Perceptions of Gender and the nature of AI generated art and the human hands behind the processes that engender bias, especially towards gender minorities. Their artwork highlights this bias through programmatic interactive artworks and traditional gallery displays.