Jake
Nemirovsky

(AU/RU)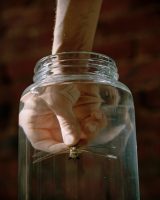 Image: Jake Nemirovsky. Courtesy the artist.
Born 1994 Melbourne, Australia
Lives and works Melbourne, Australia
Jake Nemirovsky is an artist based in Narrm/Melbourne, Australia. In 2019 he completed a Bachelor of Arts (Photography) at RMIT University, focusing on how his hybridised identity as a first generation Australian-Russian-Jew fits within an Australian landscape. In 2020 Jake completed his Bachelor of Arts (Photography) (Honours) at RMIT University, investigating how the documentary genre can visualise precarity in the contemporary world. He is currently continuing his research into precarity. Jake's photographic practice blurs the distinction between the real and the fictional, reassessing documentary image-making conventions in light of an unfolding post-truth world. Jake's work is heavily influenced by the photobook form and collaboration.