James J.
Robinson

(AU/PH)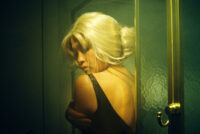 Image: James J. Robinson, On Golden Days, 2022. Courtesy the artist.
Born 1995, Melbourne, Australia
Lives and works Los Angeles, U.S.
James J. Robinson is a Filipino/Australian artist based in Los Angeles. With a background in cinema and film criticism, his work pays particular attention to character, narrative and lighting. His work focusses on the power of representation, using visibility to break down systems of oppression. This style of poetic realism derives from his desire to deconstruct and heal oppressive systems within the industry, casting everyone from his family to academics and scientists he admires. His work covers photography, filmmaking, writing and lighting design, having worked with and been published by The New York Times, Vogue Australia and The Guardian.