Jenny
Lewis

(UK)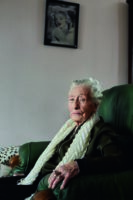 Image: Jenny Lewis, Renee 100, from the series One Hundred Years, 2021. Courtesy the artist.
Born 1974, Essex, United Kingdom
Lives and works London, United Kingdom
Jenny Lewis's portraits are non-judgemental and unobtrusive offering a rare intimacy into her subjects lives. It is her interest in people and revealing their personal narratives that motivates her work. Much of her personal work centres on her experience of living and working in East London. This work has now been published as three monographs. ONE DAY YOUNG is an empowering series reflecting on the strength and resilience of women just hours after birth, HACKNEY STUDIOS a celebration of authenticity each artist nominating the next, discovering the supportive network of a creative community facing the impossible threat of gentrification. ONE HUNDRED YEARS is a portrait series of 100 portraits every age from 1 to 100 navigating themes of aging, connection and identity.