Jeremy
Eaton

(AU)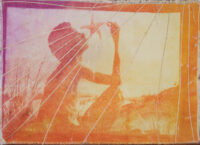 Image: Jeremy Eaton, Untitled (Test), 2021. Courtesy the artist.
Born 1990, Melbourne, Australia
Lives and works Melbourne, Australia
Jeremy Eaton is an artist, writer, curator and works in arts publishing. Over the last five years Eaton has been concerned with exploring various underrepresented homosocial histories to develop print, sculptural, drawing and text-based artworks, which form poetic and material relations between the past and now. Engaging with cinema, literature, art history and social history, Eaton maps potential subtexts that pervade repeated gestures, correlative material use across design and art, and the queer contexts that underpin these relationships. Eaton has presented solo exhibitions at Bundoora Homestead, BUS Projects and West Space and has been included in group exhibitions at LON Gallery, Margaret Lawrence Gallery, Sarah Scout Presents, Dominik Mersch Gallery and CAVES.