Jess T.
Dugan

(US)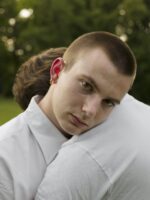 Image: Jess T. Dugan, Oskar and Zach (embrace), 2020. Courtesy the artist.
Born 1986, Biloxi, U.S.
Lives and works in St. Louis, U.S.
Jess T. Dugan is an artist whose work explores issues of identity through photographic portraiture. Their work has been widely exhibited and is in the permanent collections of over 40 museums throughout the United States. Their monographs include Look at me like you love me (MACK, 2022), To Survive on This Shore: Photographs and Interviews with Transgender and Gender Nonconforming Older Adults (Kehrer Verlag, 2018) and Every Breath We Drew (Daylight Books, 2015). They are the recipient of a Pollock-Krasner Foundation Grant, an ICP Infinity Award, and were selected by the Obama White House as an LGBT Artist Champion of Change.