Jody
Haines

(AU)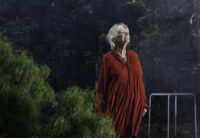 Jody Haines is a photo-media artist based in Melbourne, Victoria.
By approaching photography as a social practice, Jody collaboratively focuses on identity, representation and the female gaze, presenting work as temporary installations across public and non-traditional spaces.
Applying her social practice approach, Jody has been commissioned to collaborate with local communities, producing work across many festivals and programs within Australia. Including Women Dreaming Project (Women of the World 2018), Our people Our place (Horizons Festival 2019), and #IAMWOMAN an ongoing relational photographic series (including Arts House 2019, Immerse Public Art Festival 2018 and One Night in Footscray 2018).
Jody's work has been exhibited in Sydney Festival 2018 and Ballarat International Foto Biennale 2017 as part of Tell: Contemporary Indigenous Photography, Gertrude Street Projection Festival 2017, and as a commissioned artist for Dance Massive 2019 and Channels Festival 2019. In 2020, Jody was awarded a major Public Art commission through Collide Public Art. The structural artwork, consisting of metal, digiglass and sound, will be installed in the Arden's Garden Precinct, North Melbourne in early 2021.
Currently a PhD candidate at RMIT School of Art, and a graduate of Master of Arts, Art in Public Space at RMIT, Jody lives and works on the lands of the Wurundjeri and Boon Wurrung peoples and is a descendant of the Tommeginner peoples of Tasmania.