Julie
Shiels

(AU)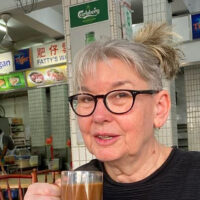 Born 1954, Melbourne, Australia
Lives and works Naarm/Melbourne
Julie Shiels makes sculptural and photomedia artworks that respond to contemporary cultural, social and political issues.
Transforming everyday objects, texts, histories, and overlooked places, her creative projects draw attention to the things that are hidden, unacknowledged or slipping from view.
Julie holds a PhD from the Victorian College of the Arts (2015) and a Masters of Art from RMIT University (2006).
Julie's artwork is regularly exhibited in public galleries and is held in many permanent collections including the Australian National Gallery, Geelong Gallery and State Library Victoria. Since 2014 her photomedia projects and artist books have been published by M.33, Melbourne.