Kiah
Pullens

(AU)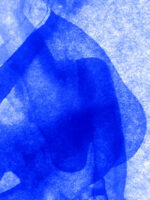 Image: Kiah Pullens, IMG_6975.jpg, 2020.
Melbourne-based artist Kiah Pullens works with sculpture and primarily analogue photography. Pullens re-energises archival images through the performative gestures of hand printing in the darkroom. Inserting her own body into the image making process, Pullens is interested in the performance she instills in her photographs and how people navigate them. Her works are composed of images sourced from an array of Australian and artistic histories and are reinvented as large scale analogue installations that question how we see and experience photography.
Pullens graduated with a Bachelor of Fine Arts (Honours) from the Victorian College of the Arts in 2019.She has been awarded a number of prizes including Best Analogue Image, CCP Salon (2019), Evans Family Award for Photography (2018) and Exposure National Student Showcase Prize (2018 and 2017). Pullens was selected to represent The Victorian College of the Arts at the National Graduate Exhibition, Hatched, hosted by Perth Institute for Contemporary Art in 2019. Selected solo exhibitions include WOW, Women of the West, Five Walls Gallery Melbourne, 2019. Selected group exhibitions: Transitions, Rotterdam Photography Festival, The Netherlands, 2020; Performing Textiles, Ian Potter Museum of Art, Melbourne, 2019; Develop, Monash Gallery of Art, Wheelers Hill, 2019; BSIDE Fundraiser, Blindside Gallery, Melbourne, 2019; Majlis Travelling Scholarship, Margaret Lawrence Gallery, Melbourne 2018.