Leah
King-Smith

(AU)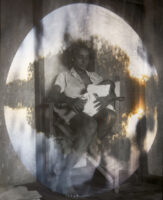 Image: Leah King-Smith, Baby from the series Dreaming Mum again, 2018. Courtesy the artist, MGA, City of Monash Collection.
Born 1956, Gympie, Australia
Lives and works Brisbane, Australia
Leah King-Smith is a Bigambul descendent born in Gympie, Queensland and currently living and working in Brisbane. King‐Smith studied photography at Victoria College in the 1980s and went on to complete a Master of Arts at Queensland University of Technology in 2001 and graduated from the same university with a PhD in visual arts in 2006. She began exhibiting her works in the 1980s and has since exhibited widely both nationally and internationally. Known for her layered photographic compositions, King‐Smith creates works that reflect her Aboriginal heritage and explore issues relating to the representation of Indigenous people.