Leela
Schauble

(CN/AU)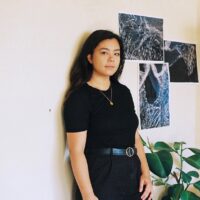 Born 1989, Melbourne, Australia
Lives and works Melbourne, Australia
Leela Schauble is a Chinese-Australian emerging artist based in Naarm / Melbourne who has exhibited locally and Internationally. Schauble works primarily with photography, video, and installations. Her practice meditates on themes of ecology and human-caused climate change. In 2018 Schauble participated in an Artist Immersion Program with LABVERDRE in the Amazon Rainforest and in 2015 undertook an artist residency to the Arctic Circle which informed her Masters research that explored human impact on the environment. Schauble received a Bachelor of Fine Arts (Honours), majoring in Painting from Monash University (2011) and a Master of Fine Arts Research at The Victorian College of the Arts (2017).