Lilah
Benetti

(AU)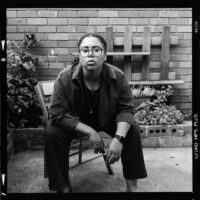 Born 1988, Melbourne, Australia
Lives and works Melbourne, Australia
From Naarm (Melbourne) Lilah Benetti is an international award winning and critically acclaimed Artist and Filmmaker. Lilah considers their work as auto-ethnographic; an amalgamation of personal experiences interwoven within broader social and cultural histories, foregrounding Black Queer identities.
Through their practice they often delve into the world of fiction to illuminate obscured narratives, exploring contemporary forms of resistance in the pursuit of self-determination.
Considering the boundaries between both the still and moving image as fluid and porous, Lilah seeks to push the visual medium's possibilities through scale, method and presentation, blurring the lines between reality and imagination.
Lilah's work is both speculative and imaginative – attentive to our immediate futures, recognising that Black Futurism and Queer Futurity are both near and tangible.