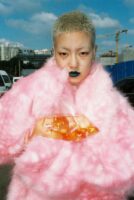 Born 1984, Liaoning, China
Lives and works in Beijing & Shanghai
Bold yet intimate, these are Luo Yang's portraits. With her film camera, she explores and records the changes happening among contemporary Chinese young people, rarely taken note of in the West. Her subjects are raw, revealing their strengths and fragilities all at once. If at a first glance they may seem badass and confident, they are also insecure and torn at the same time. With her first series GIRLS, the artist frames Chinese women, in order to better understand their life as well as her own. Empathy plays a key role in this connection that arises between Luo Yang and her models, letting emerge shared emotions, concerns, and experiences. In her latest one, Youth, Luo Yang defies stereotypes and questions gender norms, shedding light on the diversity of China's young generation in a sensitive way. As such, her images revolve around the themes of youth, nudity and femininity, while celebrating personal growth.