Marta
Bogdanska

(PL)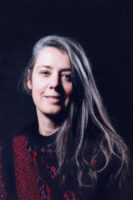 Marta Bogdanska
Born 1978, Warsaw, Poland
Lives and works Poland
Marta Bogdanska is a Polish visual artist, photographer, filmmaker and cultural manager. Her works and films have been shown and published internationally. Bogdanska holds an MA in Philosophy from Warsaw University. Her book SHIFTERS (Visual Arts Foundation and Landskrona Foto) won the PHotoESPAÑA Best International Photography Publication in 2022, and was nominated for the Kassel Dummy Award, Luma Rencontres Dummy Book Award, and MACK First Book Award. Currently, Bogdanska is a Encontros da Imagem Festival's Discovery Award finalist. Her works explore social and political issues, the creation of new narratives and retelling of histories, and notions of chance, the absurd, ironic and comic.