Martin
Smith

(AU)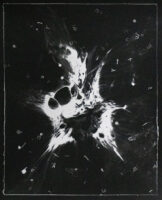 Image: Martin Smith, Absence Glacier, 2021. Courtesy the artist and Res Artis.
Born 1971, Brisbane, Australia
Lives and works Brisbane, Australia
Martin Smith is a Brisbane-based artist and photographer. Hand-cutting text from photographic prints, his intriguing works feature personal stories, diary entries and lyrics. Often confessional, the text is filled with memories and nostalgia, and conveyed with Smith's trademark humour. Incorporating text, photographs and collage, Smith's works reflect intimate and meaningful moments of his life and offer wry observations of the world.
Smith's works have been exhibited both in Australia and internationally. In 2014, he was included in the Dong Gang International Photo Festival in Korea. His work has also been included in the major exhibition, Primavera at the Museum of Contemporary Art in Sydney (2007). Smith's work is held in the collections of Artbank, the Queensland Art Gallery | Gallery of Modern Art, University of Queensland Art Museum, the Museum of Old and New Art (MONA) and Monash City Gallery, and in corporate and private collections in Australia, Hong Kong, France and the USA.