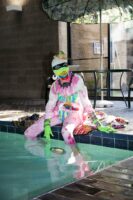 Born 1989, Berkeley, U.S.
Lives and works New York, U.S.
Martine Gutierrez is an artist, performer, writer and musician who constructs elaborate narrative scenes to subvert pop cultural tropes in the exploration of identity, both personal and collective intersectional to race, gender, class, indigeneity and culture. Her amass of media—ranging from billboards and episodic films to music videos and renowned magazine, Indigenous Woman—produce the very conduits of advertising that sell the identities she disassembles. Gutierrez hybridizes the industry's objectification of sex with the individual's pursuit of self, satirically undermining the aesthetics of what we know. While she manufactures 'celebrity' to pass as multinational corporations, it is Gutierrez herself who executes every role—simultaneously acting as subject, artist and muse.