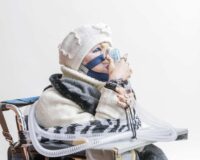 Born 1981, Aubonne, Switzerland
Lives and works Lausanne, Switzerland
Matthieu Gafsou (CH, F, 1981) lives and works in Lausanne, Switzerland. After completing a master of arts in philosophy, literature and cinema at the University of Lausanne, he studied photography at the School of Applied Arts in Vevey. Since 2006, Gafsou has participated in numerous group and solo exhibitions, and published five books. In 2009 Gafsou was awarded the prestigious "Prix de la fondation HSBC pour la photographie" and subsequently was invited to contribute to the Aperture Foundation's 2010 reGeneration2 exhibition. In 2014, Lausanne's influential Musée de l'Elysée hosted Gafsou's solo show titled Only God Can Judge Me. In 2018, the H+ exhibition was one of the highlights of Les Rencontres de la Photographie in Arles. In parallel to his artistic practice, Gafsou is on faculty at the University of Art and Design Lausanne (ECAL). He is also one of the founding members of MAPS agency.