Memo
Akten

(TR)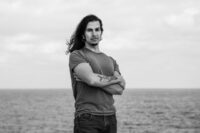 Memo Akten
Born 1975, Istanbul, Turkey
Lives and works Los Angeles, USA
Memo Akten is a multi-disciplinary artist, musician, researcher and computer scientist from Istanbul, Turkey, currently based in Los Angeles. He explores the tensions between ecology, technology, science and spirituality; studying intelligence in nature, intelligence in machines, perception, consciousness, neuroscience, physics and (philosophies of) spirituality, ritual and religion. He uses code as his craft to create images, sounds, films, large-scale responsive installations and performances. He received his PhD from Goldsmiths University of London, specialising in creative applications of Artificial Intelligence and Deep Learning with Meaningful Human Control. He is currently Assistant Professor of Computational Art and Design at University of California, San Diego (UCSD).