Mous
Lamrabat

(MA/BE)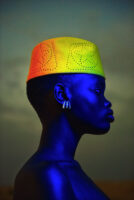 Image: Mous Lamrabat, Mashallah with extra cheese, 2021. Courtesy Loft Art Gallery.
Born 1983, Morocco
Lives and works Ghent, Belgium
Mous Lamrabat is a Moroccan Belgian photographer who, after finishing his studies as an interior architect,started getting interested in photography. A medium that gave him the satisfaction of instant creativity and an immediate result.
Self-taught, he was able to reinvent fashion photography, which he tackles with irony, a way for him to denounce consumer society, mixing ostentatious luxury and counterfeiting according to Moroccan cultural references. His models, most of which have masked faces and bodies, appear in natural scenery of Moroccan landscapes. Lamrabat's mission is to show Moroccan culture from a new perspective.
Mous Lamrabat shapes a parallel universe, filtering his own multicultural brand through humour, empathy, and irreverence. He subverts North African stereotypes, expertly layering Western brands and pop culture with symbols from his Euro-Afro heritage and faith. The result? Pure joy. Colour, audacity, and clever mise en scène define his work, with a positive energy that is as irresistible as it is provocative.