Olivia
Mròz

(AU/PL)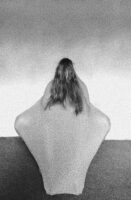 Image: Olivia Mròz, Baba Jaga from the series Lalka. Courtesy the artist.
Born 1989, Melbourne, Australia
Lives and works Melbourne, Australia
Olivia's practice is self-reflexive and examines themes surrounding identity, sex, queerness and the interconnectedness of the emotional state and trauma. A large portion of her work speaks to transgenerational trauma, the church, her Polish background and Parts Psychology. Parts Psychology is also known as parts-work-therapy or integrated family systems, which goal is achieving trauma resolution by recognising disowned parts, usually younger parts and sub-personalities, by giving these parts a voice. Currently there's a larger focus on liberation within Olivia's experiences with queerness and sex. All of Olivia's works are manipulated through layers of erasure and distortion.