Omar Victor
Diop

(SN)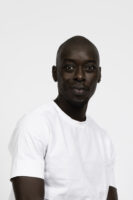 Born 1980, Dakar, Senegal.
Lives and works Dakar, Senegal and Paris, France.
Regarded as one of the most important Senegalese photographers of his generation, Omar Victor Diop was born in Dakar in 1980 and now lives and works between Paris and Dakar. Since the start of his career, Diop has attracted notice through works bringing together the imagery of fashion and the classical West-African staged portraiture to create images that encourage a variety of interpretations. Across close to a decade, Diop has used self-portraiture as a means to embody historical characters and movements that re-tell the often overlooked story of African Diasporas.