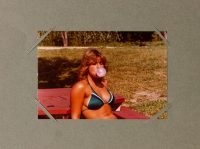 Born 1962, New Zealand
Lives and works Melbourne, Australia
Patrick Pound is an Australian artist who works with collections as if on a dare. His 2017 survey exhibition Patrick Pound: The Great Exhibition was held at the National Gallery of Victoria. A major monograph was published to accompany that survey of Pound's collection-based artworks. In 2019 Pound was shortlisted to represent Australia at the Venice Biennale.  Pound has worked with many Public Gallery and Museum collections, alongside his ever-growing photo collection-based artworks. He has held over 50 solo exhibitions and been in over 80 curated exhibitions in NZ, Australia, USA, France, England, Korea, Italy, Hong Kong, Indonesia, Malaysia, etc.  Pound's work is held in many public galleries including the National Gallery, Canberra, the Art Gallery of New South Wales, the National Gallery of Victoria, the Art Gallery of South Australia, Te Papa Tongarewa, Wellington, NZ, Auckland Art Gallery, NZ, Christchurch Art Gallery, NZ.
Pound's creative practice rethinks collection and display models and unpacks how things might be found to hold and express ideas differently in gallery and museum contexts. He positions the collection as a medium. He also investigates new methods of interconnecting collection works using internet search methods as an organizing system for finding, ordering and displaying collections as artworks. The technique of the intersecting matrix hang, and the performative search engine generating internet artworks is a new development in curatorial methodology and thinking, which asks questions of our understandings of sorting and storing and searching information in the internet age, pressing us to rethink museum models of collection and display.