Priya
Kambli

(IN/US)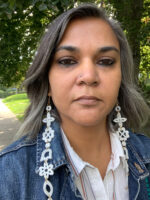 Born 1975, Mumbai, India
Lives and works Kirksville, MO, USA
Priya Suresh Kambli received her BFA at the University of Louisiana in Lafayette and an MFA from the University of Houston. She is currently Professor of Art at Truman State University in Kirksville, Missouri.
Kambli's work inadvertently examines the question asked by her son Kavi at age three; did she belong to two different worlds, since she spoke two different languages? The essence of his question continues to be a driving force in her art making. In her work, Kambli has always strived to understand the formation and erasure of identity that is an inevitable part of the migrant experience, exploring the resulting fragmentation of family, identity, and culture.