Rachel
Main

(AU)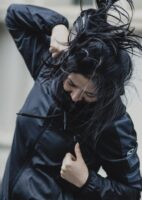 Image: Rachel Main, Jannie at the 1010 Session, Melbourne, 2021. Courtesy the artist.
Born 1984, Melbourne, Australia
Lives and works Melbourne, Australia
Rachel Main's artistic practice is rooted in storytelling and connection and at its core are the relationships and the communities she is engaged with. She is interested in process, participation and collaboration, with her work spanning across photography and video. She has been embedded in the Australian Krump scene for over 13 years initially joining to learn the foundations of the dance and later becoming the community 'documenter'.