Raphaela
Rosella

(AU)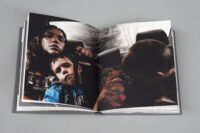 Image: Raphaela Rosella, we met a little early, but i get to love you longer
Raphaela Rosella is an Australian artist from Nimbin, New South Wales, currently residing in Meanjin (Brisbane). She works in the tradition of long-form photographic storytelling, and more recently in moving image.
In 2014 she was the first Australian woman selected to attend World Press Photo's prestigious Joop Swart Masterclass in Amsterdam. Her work has been exhibited and screened nationally and internationally including: Photo Biennale Photoquai (France), International Centre for Photography (USA), UNSW Galleries/Australian Centre for Photography (Australia) Noorderlicht Photofestival (Netherlands), Photoville (USA), Reportage Festival (Australia), In/Out Transylvania Photo Festival (Romania) and Zagreb Museum of Contemporary Art for Organ Vida International Photography Festival (Croatia).
Her work has received distinctions including: First Prize (Portrait Singles Category) World Press Photo Contest (2015), Australian Photobook of the Year (Momentro Pro) (2015), finalist of the Moran Photographic Prize (2017) and most recently she was selected as the winner and first recipient of the Photographic Museum of Humanity's Women's Photography Grant (2017).