Salote
Tawale

(FJ/AU)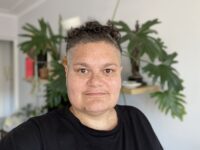 Born 1976, Suva, Fiji
Lives and works Sydney, Australia
Salote Tawale works across performance, moving image, painting and installation to probe ideas of self-representation. Humorously challenging stereotypes, Salote presents nuanced articulations of the complex negotiations around identity as a queer Fijian woman with settler-colonial heritage living in Australia. Tawale's recent works expand these concerns, acknowledging the growing significance of indigenous knowledge systems to individuals living in the diaspora in navigating this particular time and space.