Samuel
Hodge

(AU)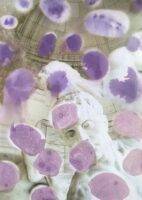 Image: Samuel Hodge, from the series The Wit of the Staircase, 2020. Courtesy the artist.
Born 1978, Ngarabal (Glen Innes), Australia
Lives and works Gadigal (Sydney), Australia
Samuel Hodge's practice draws on a twenty-year archive of material, juxtaposing specific objects from unfamiliar places, reanimating imagery, thoughts, and feelings that have been concealed, ignored, or disregarded. This potentially never-ending process inspired Hodge to question the duty and integrity of the materials he's manipulating – this includes photography, textiles, and digital video.
Hodge's recent exhibitions include; The Public Body.02, a curated exhibition at Artspace, Sydney; The Wit of the Staircase, UNSW Gallery, Sydney; The Imponderable Archive, WerkArtz, Los Angeles. In 2017, he was the Artist In Residence at Carriageworks, Sydney, where he presented two public programs in the form of an experimental performance. In 2019, Hodge was awarded the UNSWAAD Cité Des Arts International Studio Residency in Paris. Additionally, Hodge's collaborations have included Melbourne dance company Chunky Move and a collection with Australian fashion icons, Romance Was Born.