Sanja
Pahoki

(AU)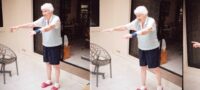 Image: Sanja Pahoki, The Fall, 2021-22. Courtesy the artist and Sarah Scout Presents.
Born Osijek, Croatia
Lives and works Melbourne, Australia
Sanja Pahoki uses photography, video, neon and text to explore observations from everyday life. Existential issues such as the nature of self, identity and the role of anxiety are recurring themes in her work. As the autobiographical is the initial inspiration for much of Sanja's work, humour is often employed as a strategy to direct attention away from the personal to shared universal concerns. In 2018, Sanja was awarded a Doctor of Philosophy from Monash University. Pahoki's artwork has been exhibited both nationally (ACCA @ Mirka at Tolarno Hotel, Heidi Museum of Modern Art, Centre for Contemporary Photography, Gertrude Contemporary Art Spaces, Australian Centre for Photography in Sydney) and internationally (Brussels, Japan, Shanghai, Vienna, Berlin, Paris and Rotterdam). Pahoki is currently the Head of Photography at the Victorian College of the Arts, University of Melbourne. She is represented by Sarah Scout Presents, Melbourne.