Sara Tautuku
Orme

(NZ)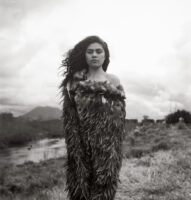 Image: Sara Tautuku Orme. Courtesy the artist.
Born 1964, Christchurch, New Zealand
Lives and works Ponsonby, New Zealand
Sara Tautuku Orme, (Ngāti Awa, Ngāti Tarawhai, Ngāti Whakaue) based in Aotearoa New Zealand, uncovers the daily life of human experience around her. The diversity in her personal life, referencing both feminism and bi-culturalism, forms the basis of her photographic practice. After completing a Sociology degree, majoring in Feminist studies & Ethnicity, she went on to study photography with a focus on research, documentary and portraiture.
Sara's work is both an investigation of sociological landscapes of both herself and those around her. Her community, feminism and whanau continue to be central to her work.