Sarah
Pannell

(AU)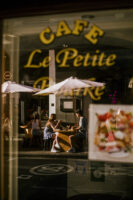 Image: Sarah Pannell.
Born 1988, Melbourne, Australia
Lives and works Melbourne, Australia
Sarah Pannell is an Australian photographer whose work concerns culture, landscape, tradition and community. Curiosity spurs Pannell to travel as often as she can to where she can observe and explore shifting cultures and changing spaces. This fascination with humans' ever-evolving dance with their surrounding environments has led to an array of projects focussing on everyday life, preservation of traditions and communities around the world.