Scotty
So

(HK/AU)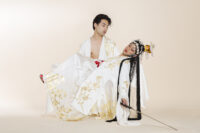 Image: Scotty So, from the series Shungay, 2022. Commissioned by Photo Australia for PHOTO 2022 International Festival of Photography. Courtesy the artist and MARS Gallery.
Born 1995, Hong Kong
Lives and works Melbourne, Australia
Scotty So is a Melbourne-based artist who works across media, using painting, photography, sculptures, site-responsive installation, videos and drag performance. Driven by the thrill of camp, he explores the often-contradictory relationship between humour and sincerity within lived experience. Born and raised in Hong Kong, So graduated BFA Honours at the Victorian College of the Arts with First Class Honours in Melbourne, Australia, 2019. So's work has been displayed in Hong Kong, China and Australia, including the Triennial 2020 of the National Gallery of Victoria. Scotty So is represented by MARS Gallery in Australia.