Shwe Wutt
Hmon

(MM)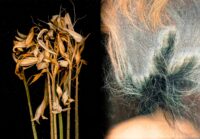 Image: Shwe Wutt Hmon, I Do Miss Hospital Visit. Courtesy the artist.
Born 1986, Yangon, Myanmar
Lives and works Yangon, Myanmar & Chiang Mai, Thailand
Shwe Wutt Hmon is a freelance documentary photographer based in Yangon, Myanmar, and also works as an independent researcher for UN agencies and international organizations.
Shwe's works focus on feminism, collective identity, human relationships, exploring mental health and telling intimate stories of places and people that are close to her heart. She tells personal stories from which she connects and examines larger social issues; vice versa she works on social stories reflecting and drawing from her position within the issue. Shwe uses photography as her main medium and incorporates videos, texts, poems, paintings and drawings of her own or collaborating with others.