Talia
Smith

(NZ)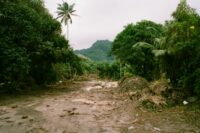 Image: Talia Smith, Islands, 2019. Courtesy the artist.
Born 1985, Ngamotu (New Plymouth), New Zealand
Lives and works Sydney, Australia
Talia Smith is an artist and curator from Aotearoa New Zealand and is now based in Sydney, Australia. She is of Samoan, Cook Island and Pakeha heritage. Smith's work explores notions of time, familial histories and connections to place, in particular her own experience of living away from both her ancestral homelands and the country where she was born. Through photography and installation Smith draws upon her family history and lived experience to question the ties that bind us to culture, place and identity.